Sandy Sansing Body Shop
The Sandy Sansing Body Shop is located at 6200 Pensacola Boulevard, behind the Chevrolet dealership.
We have almost 30 years of body shop experience and have continually hired the best and most skilled technicians. The Sandy Sansing Body Shop can handle your insurance and collision needs on all makes and models. We are a direct repair facility for most insurance companies, and can do all types of work, from fixing a dent to rebuilding an entire car.
Here are some of the reasons you should choose Sandy Sansing Body Shop to repair your vehicle:
- Factory Trained, A.S.E. and I-CAR Certified Technicians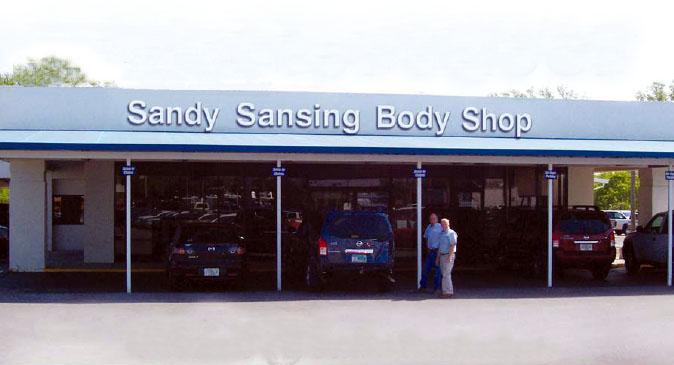 - State of the Art Equipment
- Specialize in BMW and Corvette Aluminum Structures
- Keep your Manufacturer Warranty Intact
- Direct Repair Facility for most Insurance Carriers
- Quality Workmanship

Sandy Sansing Body Shop
Hours: Monday thru Friday 7:30 - 5:30
Phone: 850-476-2480
Toll Free: 800-476-2480
Email: bodyshop@sandysansing.com

Need a Towing Service?
Call Fletcher's Towing 850-969-0065
Pensacola
Auto Body Shop & Collision Repair

If you've been in an accident or your BMW car has suffered some kind of body damage; visit our professional Pensacola auto body repair shop to get your vehicle back into shape. At Sandy Sansing BMW's Pensacola collision shop we will use all the newest technological advances in paint-matching and refinishing to make your car like new again.
Use our online form to schedule an appointment, contact our auto body shop directly at (850) 477-1855 or visit us in person at 186 West Airport Blvd., Pensacola, FL. We are the Pensacola auto body center of choice because we are committed to your satisfaction.